Bedford
Partnering with the Bedford Recreation Department, Viking offers youth soccer clinics, basketball clinics, multi-sports, SNAG Golf, and Viking Ninja Warrior clinics as well as summer sports camps including multi-sports camp, basketball camp, dodgeball camp, and Viking Ninja Warrior camps. Viking also offers School Vacation multi-sports camps. All camps are licensed by the Department of Public health.
Summer Camp
This summer is BIG! It is our 29th year anniversary and we could not be any more excited for the 29th iteration of our popular summer camps. Since the last whistle was blown to conclude our 2021 summer camp, we have been working tirelessly to make 2022 an unforgettable summer camp experience for your child.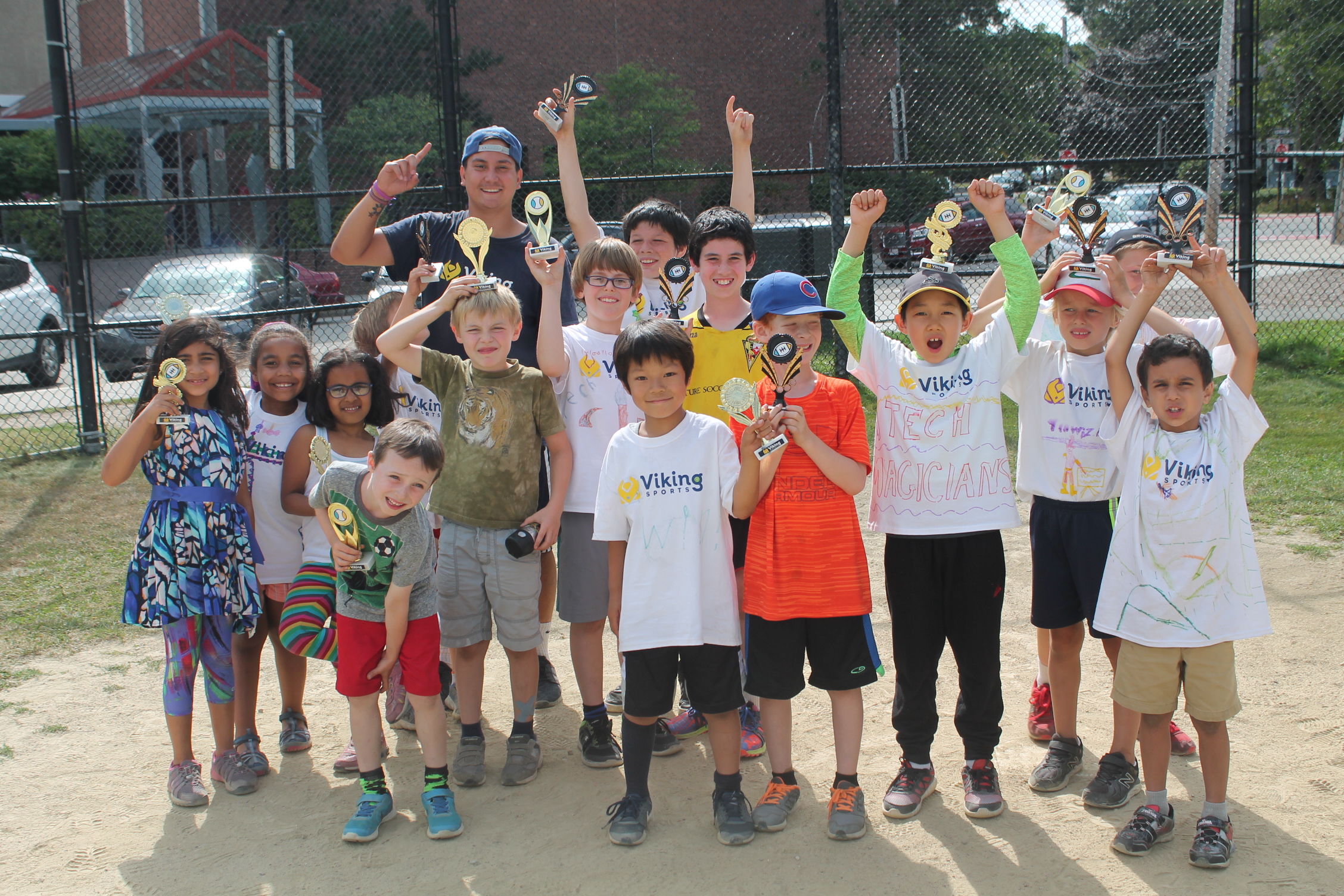 [/ezcol_1half]
The following programs are available to all Bedford residents:
SUMMER CAMPS
Viking Ninja Warrior Camp
Multi-Sports Camp
Basketball Camp
Gaga Ball & Dodgeball Camp
School Vacation Multi-Sports Camp (December Break, February Break)
SPORTS CLINICS
Soccer Clinics
Baseball & T-Ball Clinics
Basketball Clinics
Floor Hockey Clinics
SNAG Golf Clinics
Multi-Sports Clinics
Viking Ninja Warrior Clinics
SPORTS LEAGUES
Adult Basketball League (Men's Basketball League & Women's Basketball League)
Adult Soccer (Co-ed Soccer & Women's Only Soccer Available)
Our Bedford programs service the following communities:
Bedford
Concord
Burlington
Woburn
Waltham
Lincoln
Hanscom AFB
Bedford Schools
In Bedford and the surrounding communities, children from the following public schools, private schools, and pre-schools participate in Viking Sports Programs, Sports Clinics, Sports Camps, and Leagues:
After School Club
Afterschool Activity Club Dc
Ages & Stages Pre-School
Amazing Grace Kids Preschool
Armenian Sisters Academy
Artisan Child Care Center
Bartlett School
Beaverbrook Early Intervention
Bedford Children's Center
Bedford Montessori School
Billy Dalbin Pre-School
Birches School
Bowman Elementary
Boys & Girls Club Day Care – Hurld
Boys & Girls Club Day Care – Linscott
Boys And Girls Of Woburn
Bridge Elementary
Bright Horizons Child Care Center (Lexington)
Bright Horizons Children's Center (Waltham)
Bright Horizons Crosby Drive
Burlington Day Care
Burlington Montessori School
Cambridge St. KinderCare
Carousel School
Chid Development Center of Lexington
Children's Center Of Lexington
Children's Workshop Waltham
Childrens Center
Clyde Reeves Elementary
Community Day Center
Community Nursery School
Cotting School
Country Club Learning Center (Woburn)
Daniel L Joyce Middle School
Daniel P Hurid Elementary
Discovery Pre-School (Burlington Recreation)
Douglas Macarthur Elementary School
Drumlin Farm Community Pre-School
Extended Day Care-Bridge Kindergarten
Extended Day Program-Harrington
First Circle Learning Center
First Steps Early Learning Center
Fiske Elementary
Fiske Extended Day Prorgram
Fox Hill Elementary School
Francis Wyman Elementary School
French for Kids
Goddard School-Bedford
Goodyear Elementary
Hammond Square Children's Dc
Hancock Nursery School
Harrington Elementary
Henry Whittemore Elementary School
James Fitzgerald Elementary School
Jewish Preshool Of Lexington
John F Kennedy Middle School
John Glenn Middle School
John W. McDevitt Middle School
Jonas Clarke Middle School
Josiah W Hayden After School Pgrm
Jospeh Easterbrook Elementary
Kim's Family Child Care
Kindercare Learning Center (Burlington)
Kindercare Learning Center (Woburn)
Knowledge Beginnings
Learning Zone Day Care Center
Lemberg Children's Center
Lexington Children's Place
Lexington Knowledge Beginnings
Lexington Montessori School
Lexington Play Care Center
Lincoln Country Day School
Lincoln Lab Children's Center
Lincoln Nursery School
Lincoln School (Lincoln, MA)
Linscott-Rumford Elementary
Little Folks Day School
Little Hands Big Hearts Christian Preschool
Little Hands Big Hearts Christian Ps
Little Professional Preschool – Woburn
Little Souls Center
Little Sprouts – Woburn
Lt Elezer Davis Elementary School
Lt Job Lane School
Magic Garden Inc (Lincoln)
Malcolm White Elementary
Mall Rd Knowledge Beginnings
Maria Hastings Elementary
Marshall Simonds Middle School
Mary D Altavest Elementary
Memorial Elementary School
Methodist Weekday Pre-School
Mount Hope Christian School
My Montessori School-Woburn
N Suburban Ymca
No Suburban Ymca Children's Center
Northeast Elementary School
One Two Three Day School
Open Arms Christian Pre-School
Open Bible Academy
Our Lady's Academy
Pilgrim Nursery School
Pine Glen Elementary School
Presbyterian Nursery School
Primrose School of Burlington
Prospect Terrace Childrens Center
Puddle Duck Day Care
Ray Avenue KinderCare
Recreation Kids Club
Shamrock Elementary
St Paul's Weekday Nursery School
St. Charles School
St. Jude School
Temple Nursery School
Tender Learning Centre
The Children's Workshop
The Goddard School
The LEAP School
Thomas R Plympton Elementary Schol
Trinty Covenant Pre-School
Tufts Family Day Care
Turtle Fun's Child Care
Waldorf School of Lexington
Waltham Child Care Center
Waltham Creative Start
Waltham Day Care Center
Waltham YMCA Child Care Center
Waverly Oaks Child Development Center
William F. Stanley Elementary School
Wm Diamond Middle School
Woburn Creative Start Head Start
Woburn KinderCare
Woburn Montessori School
World Of Learning Day Care Center
World Of Wonder
Wyman Elementary
Ymca N Suburban Family (Burlington)
Viking Sports private lessons are a great opportunity for your child to focus attention in a sport of their choosing.  Our coaches have extensive knowledge in many of the traditional sports, and through our private lessons, your child will build confidence, understand important aspects of gameplay, and learn the skills necessary to be the best of the best on the field, court, or pitch.