Lexington
Partnering with the Lexington Recreation Department, Viking offers youth soccer clinics, basketball clinics, multi-sports, SNAG Golf, and Viking Ninja Warrior clinics as well as summer sports camps including multi-sports camp, basketball camp, dodgeball camp, and Viking Ninja Warrior camps. Viking also offers School Vacation multi-sports camps. All camps are licensed by the Department of Public health.
Summer Camp
This summer is BIG! It is our 30th year anniversary and we could not be any more excited for the 30th iteration of our popular summer camps. Since the last whistle was blown to conclude our 2022 summer camp, we have been working tirelessly to make 2023 an unforgettable summer camp experience for your child.
Clinics
Our clinics are instructional classes meet once a week and last for a 5-6 weeks. Our staff follow an age appropriate curriculum that keep kids engaged and entertained, while learning a new sport.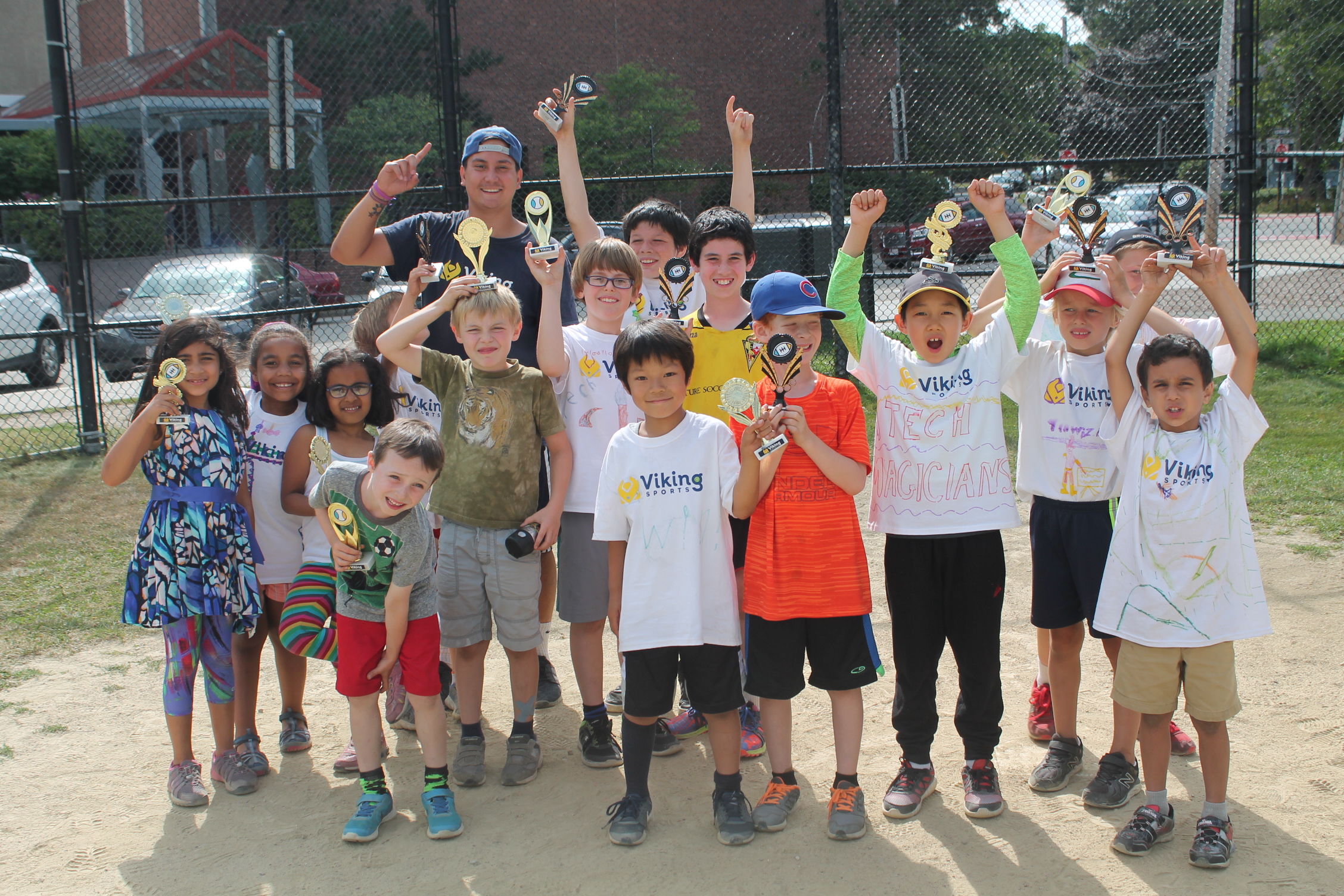 The following programs are available to all Lexington residents:
SUMMER CAMPS
Multi-Sports Camp
Viking Ninja Warrior Camp
Basketball Camp
Baseball Camp
Flag Football Camp
School Vacation Multi-Sports Camp (February Break and April Break)
SPORTS CLINICS
Soccer Clinics
Baseball & T-Ball Clinics
Flag Football Clinics
Basketball Clinics
Floor Hockey Clinics
SNAG Golf Clinics
Multi-Sports Clinics
Advanced Level Clinics For All Sports
Viking Ninja Warrior Clinics
LOCATIONS
Center Recreation Complex (80 Worthen Rd, Lexington) – Many of our sports camps and clinics are held at the Center Recreation Complex in Lexington. The Lexington CRC is a true gem for outdoor sports enthusiasts, particularly for those seeking an exceptional location for sports camps. Boasting a range of first-rate facilities, this complex offers an incredible experience for players and fans alike.
With multiple baseball and soccer fields, athletes can enjoy playing on top-notch playing surfaces that are meticulously maintained to ensure optimal performance. The fields are expansive and offer ample space for both team and individual training. Moreover, the surrounding natural beauty of the complex makes it an ideal place for those who seek a tranquil setting for their activities.
In addition to the baseball and soccer fields, the Center Recreation Complex offers basketball courts that are sure to be a hit with players of all ages. The courts are of a superior quality, with clean surfaces and solid hoops that are perfect for practicing dribbling, passing, and shooting. Whether playing a friendly pickup game or engaging in some serious training, the basketball courts at this complex are sure to provide an enjoyable experience.
For those who enjoy running, the track at the Center Recreation Complex is another highlight. The track is well-maintained and has a comfortable surface that is ideal for running. Whether you are a seasoned runner or just getting started, the track offers the perfect environment to help you meet your fitness goals.
Last but not least, the turf field at the Center Recreation Complex is yet another great asset for sports camps. The field is spacious and has a premium surface that can accommodate a range of activities, such as soccer, lacrosse, and football. The field's design and condition make it perfect for training and games alike.
Overall, the Center Recreation Complex in Lexington, MA is a sports enthusiast's paradise that offers an unrivaled experience for outdoor sports camps. With its multiple baseball and soccer fields, basketball courts, track, and turf field, it is an exceptional location that is sure to impress.
Estabrook School Gym (117 Grove St, Lexington) – Many of our indoor sports camps and clinics are held at the the Estabrook Elementary School Gym in Lexington. It is a spacious and well-equipped facility that serves as a hub for athletic and community events. The gym is an ideal venue for basketball games, school assemblies, and other gatherings. The facility is easily accessible and has plenty of parking, making it convenient for visitors and attendees. Overall, the Estrabook Elementary School Gym is a top-notch facility that plays an important role in the community.
Fiske School Gym (55 Adams St, Lexington) – We also run many sports camps and clinics at the Fiske Elementary School Gym in Lexington. The gym is a popular destination for students and community members alike. The gym features a full-sized court with hardwood flooring and plenty of natural light, making it an ideal space for basketball games, practices, and other sports activities. The gym is also equipped with a variety of equipment, including scoreboards and sound systems, ensuring that every game is exciting and enjoyable for all involved. With its central location and modern amenities, the Fiske Elementary School Gym is a fantastic venue for sports enthusiasts in the Lexington area.
Our Lexington programs service the following communities:
Arlington
Bedford
Burling
Concord
Hanscom AFB
Lincoln
Waltham
Woburn
Lexington Schools
In Lexington and the surrounding communities, children from the following public schools, private schools, and pre-schools participate in Viking Sports Programs, Sports Clinics, Sports Camps, and Leagues:
After School Club
Afterschool Activity Club Dc
Ages & Stages Pre-School
Amazing Grace Kids Preschool
Armenian Sisters Academy
Artisan Child Care Center
Bartlett School
Beaverbrook Early Intervention
Bedford Children's Center
Bedford Montessori School
Billy Dalbin Pre-School
Birches School
Bowman Elementary
Boys & Girls Club Day Care – Hurld
Boys & Girls Club Day Care – Linscott
Boys And Girls Of Woburn
Bridge Elementary
Bright Horizons Child Care Center (Lexington)
Bright Horizons Children's Center (Waltham)
Bright Horizons Crosby Drive
Burlington Day Care
Burlington Montessori School
Cambridge St. KinderCare
Carousel School
Chid Development Center of Lexington
Children's Center Of Lexington
Children's Workshop Waltham
Childrens Center
Clyde Reeves Elementary
Community Day Center
Community Nursery School
Cotting School
Country Club Learning Center (Woburn)
Daniel L Joyce Middle School
Daniel P Hurid Elementary
Discovery Pre-School (Burlington Recreation)
Douglas Macarthur Elementary School
Drumlin Farm Community Pre-School
Extended Day Care-Bridge Kindergarten
Extended Day Program-Harrington
First Circle Learning Center
First Steps Early Learning Center
Fiske Elementary
Fiske Extended Day Prorgram
Fox Hill Elementary School
Francis Wyman Elementary School
French for Kids
Goddard School-Bedford
Goodyear Elementary
Hammond Square Children's Dc
Hancock Nursery School
Harrington Elementary
Henry Whittemore Elementary School
James Fitzgerald Elementary School
Jewish Preshool Of Lexington
John F Kennedy Middle School
John Glenn Middle School
John W. McDevitt Middle School
Jonas Clarke Middle School
Josiah W Hayden After School Pgrm
Jospeh Easterbrook Elementary
Kim's Family Child Care
Kindercare Learning Center (Burlington)
Kindercare Learning Center (Woburn)
Knowledge Beginnings
Learning Zone Day Care Center
Lemberg Children's Center
Lexington Children's Place
Lexington Knowledge Beginnings
Lexington Montessori School
Lexington Play Care Center
Lincoln Country Day School
Lincoln Lab Children's Center
Lincoln Nursery School
Lincoln School (Lincoln, MA)
Linscott-Rumford Elementary
Little Folks Day School
Little Hands Big Hearts Christian Preschool
Little Hands Big Hearts Christian Ps
Little Professional Preschool – Woburn
Little Souls Center
Little Sprouts – Woburn
Lt Elezer Davis Elementary School
Lt Job Lane School
Magic Garden Inc (Lincoln)
Malcolm White Elementary
Mall Rd Knowledge Beginnings
Maria Hastings Elementary
Marshall Simonds Middle School
Mary D Altavest Elementary
Memorial Elementary School
Methodist Weekday Pre-School
Mount Hope Christian School
My Montessori School-Woburn
N Suburban Ymca
No Suburban Ymca Children's Center
Northeast Elementary School
One Two Three Day School
Open Arms Christian Pre-School
Open Bible Academy
Our Lady's Academy
Pilgrim Nursery School
Pine Glen Elementary School
Presbyterian Nursery School
Primrose School of Burlington
Prospect Terrace Childrens Center
Puddle Duck Day Care
Ray Avenue KinderCare
Recreation Kids Club
Shamrock Elementary
St Paul's Weekday Nursery School
St. Charles School
St. Jude School
Temple Nursery School
Tender Learning Centre
The Children's Workshop
The Goddard School
The LEAP School
Thomas R Plympton Elementary Schol
Trinty Covenant Pre-School
Tufts Family Day Care
Turtle Fun's Child Care
Waldorf School of Lexington
Waltham Child Care Center
Waltham Creative Start
Waltham Day Care Center
Waltham YMCA Child Care Center
Waverly Oaks Child Development Center
William F. Stanley Elementary School
Wm Diamond Middle School
Woburn Creative Start Head Start
Woburn KinderCare
Woburn Montessori School
World Of Learning Day Care Center
World Of Wonder
Wyman Elementary
Ymca N Suburban Family (Burlington)
Viking Sports private lessons are a great opportunity for your child to focus attention in a sport of their choosing.  Our coaches have extensive knowledge in many of the traditional sports, and through our private lessons, your child will build confidence, understand important aspects of gameplay, and learn the skills necessary to be the best of the best on the field, court, or pitch.