Medway
Partnered with the Medway Park & Recreation Department and the Medway community, Viking is excited to offer youth sports clinics year round, school vacation camps, and a variety of our popular Sports Summer Camps throughout the summer. No matter what program your child takes, our goal is to make sure your child enjoys the class or the camp.
Summer Camp
This summer is BIG! It is our 29th year anniversary and we could not be any more excited for the 29th iteration of our popular summer camps. Since the last whistle was blown to conclude our 2021 summer camp, we have been working tirelessly to make 2022 an unforgettable summer camp experience for your child.
Clinics
Our clinics are instructional classes meet once a week and last for a 6-8 weeks. Our staff follow an age appropriate curriculum that keep kids engaged and entertained, while learning a new sport.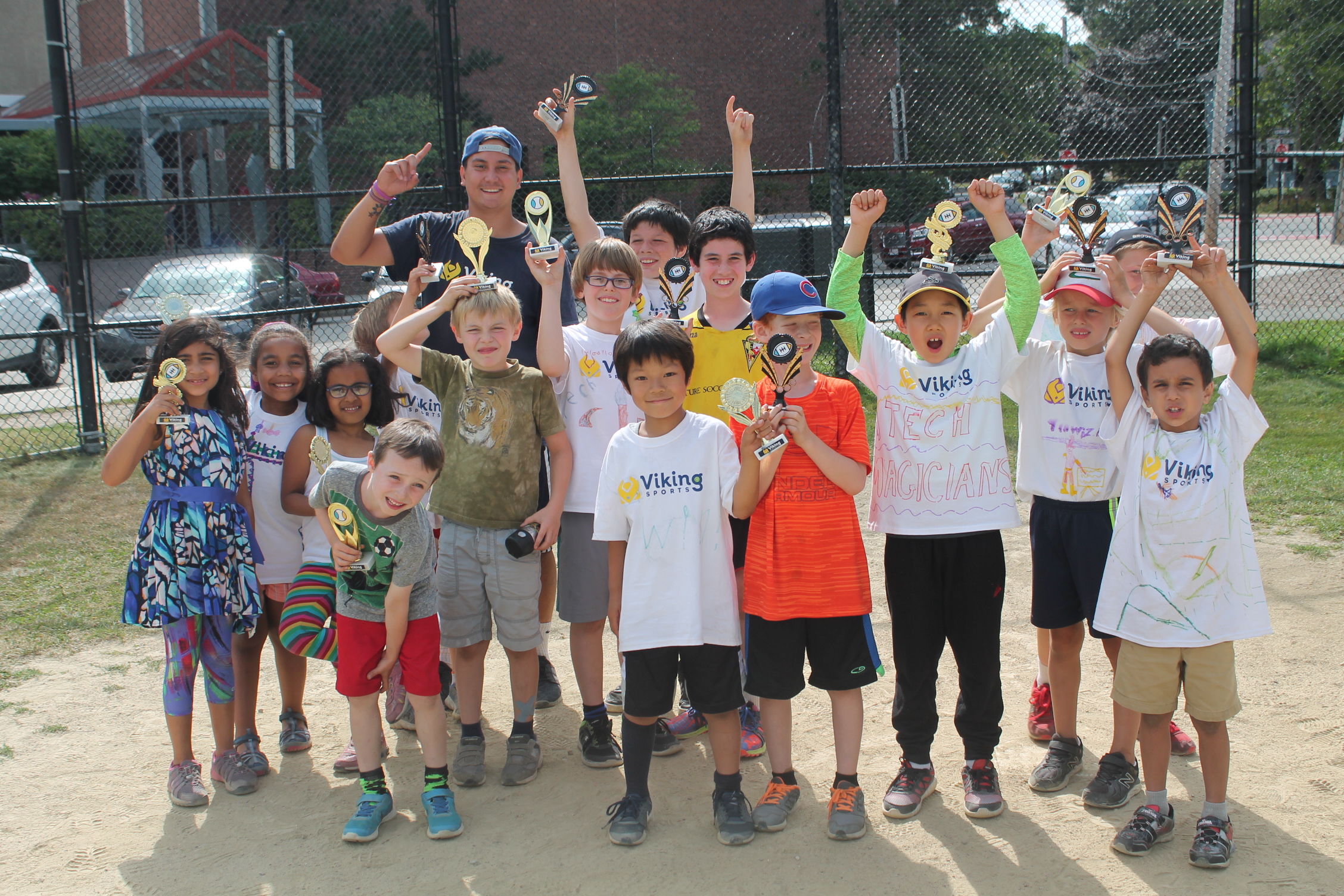 The following programs are available to all Medway residents:
SUMMER CAMPS
Viking Ninja Warrior
KinderKickers Soccer Camp
Baseball & T-Ball Camp
Flag Football Camp
Basketball Camp
Multi-Sports Camp
Boys Lacrosse Camp
Girls Lacrosse Camp
SNAG Golf Camp
Tennis Camp
Girls Field Hockey Camp
Beach Volleyball Camp
Dodgeball & Gaga Ball Camp
SPORTS CLINICS
Soccer Clinics
Baseball & T-Ball Clinics
Flag Football Clinics
Basketball Clinics
Dodgeball Clinics
Floor Hockey Clinics
SNAG Golf Clinics
Multi-Sports Clinics
Tiny Tumblers Clinics
Viking Ninja Warrior Clinics
SPORTS LEAGUES
Adult Basketball League in Brookline (Men's Basketball League & Women's Basketball League)
Adult Soccer in Brookline (Co-ed Soccer & Women's Only Soccer Available)
LOCATIONS
North Field (88 Summer Street, Medway)
Oakland Park Basketball Courts (76 Oakland Street Medway)
Lamson Field (88 Summer Street, Medway)
Hanlon Field (88 Summer Street, Medway)
Medway Middle School (45 Holliston St., Medway)
Charland Field (45 Holliston St., Medway)
Our Medway programs service the following communities:
Millis
Medfield
Holliston
Braggville
Milford
Hopkinton
Hopedale
Mendon
Bellingham
Franklin
Wrentham
Norfolk
In Medway and the surrounding communities, children from the following public schools, private schools, and pre-schools participate in Viking Sports Programs, Sports Clinics, and Sports Camps:
A Step In Time Preschool

Academy for Children – Milford

Active Kids Preschool

Art-n-Play Preschool and Childcare

Back To Basics Preschool

Bellingham Early Childhood

Bethany Christian Academy

Big Birds Nest Nursery School

Blake Middle School

Blessed Beginnings Preschool

Brookside Elementary School

Burke-Memorial Elementary School

Childrens Korner

Christian Family Montessori

Clyde F. Brown Elementary School

Cornerstone Christian Academy

Country Cottage Children's Center

Cuddles And Cradles

Dale Street School

Franklin Children's School
Fred W. Miller Elementary School

Full Circle Farm Preschool

Good Shepherd Nursery School

Happy Hours Day School

Healthy Families

Holliston Christian Preschool

Hopkinton Integrated Preschool

John D. McGovern Elementary School

Little hopes big dreams family child care

Medway Extended Day

Medway Middle School

Memorial Elementary School

Memorial School

Millis Middle School

Miss Anne's Daycare

Mother Hubbard Pre-School Center

Pitter Patter Family Day Care

Play and Learn Family Day Care

Pooh Bear Preschool

Qi School
Rise & Shine Academy

Robert H. Adams Middle School

Sacred Heart Parish CCD

Saint Joseph Academy

Sam Placentino Elementary School

Shining Star Early Childhood Center

Shining Star Preschool

Shining Stars Nursery School

Small Miracles Preschool

Stacy Middle School

Stepping Stones Preschool + Daycare

Sunshine Pre School

Swan's Nest Play Day

The Learning Experience – Milford

The Learning Tree

Tracy & Becky Day Care and Preschool

Wheelock School

Woodland Elementary School

Woodside Montessori Academy

Young At Heart Learning Center
Viking Sports private lessons are a great opportunity for your child to focus attention in a sport of their choosing.  Our coaches have extensive knowledge in many of the traditional sports, and through our private lessons, your child will build confidence, understand important aspects of gameplay, and learn the skills necessary to be the best of the best on the field, court, or pitch.