Newton
Partnered with the Newton community for over 30 years, Viking is excited to offer youth sports clinics year round, school vacation camps, sports leagues, and our popular Multi-Sports Summer Camp throughout the summer. No matter what program your child takes, our goal is to make sure your child enjoys the class or the camp. Newton residents are able to enjoy the convenient locations of our programs in town as well in nearby Brookline and Chestnut Hill.
Summer Camp
This summer is BIG! It is our 30th year anniversary and we could not be any more excited for the 30th iteration of our popular summer camps. Since the last whistle was blown to conclude our 2022 summer camp, we have been working tirelessly to make 2023 an unforgettable summer camp experience for your child.
Clinics
Our clinics are instructional classes meet once a week and last for a 6-8 weeks. Our staff follow an age appropriate curriculum that keep kids engaged and entertained, while learning a new sport.
Open Play
This drop in and play time is a great way for kids to burn off all of that endless energy. Play in our space, use our equipment (balls, tunnels, bounce houses, etc.), and have a great time. Open Play is for kids aged 6 months to 5 years old. It is designed to be a free-form and unstructured setting. No shoes are allowed in the play space. All kids must be accompanied by an adult.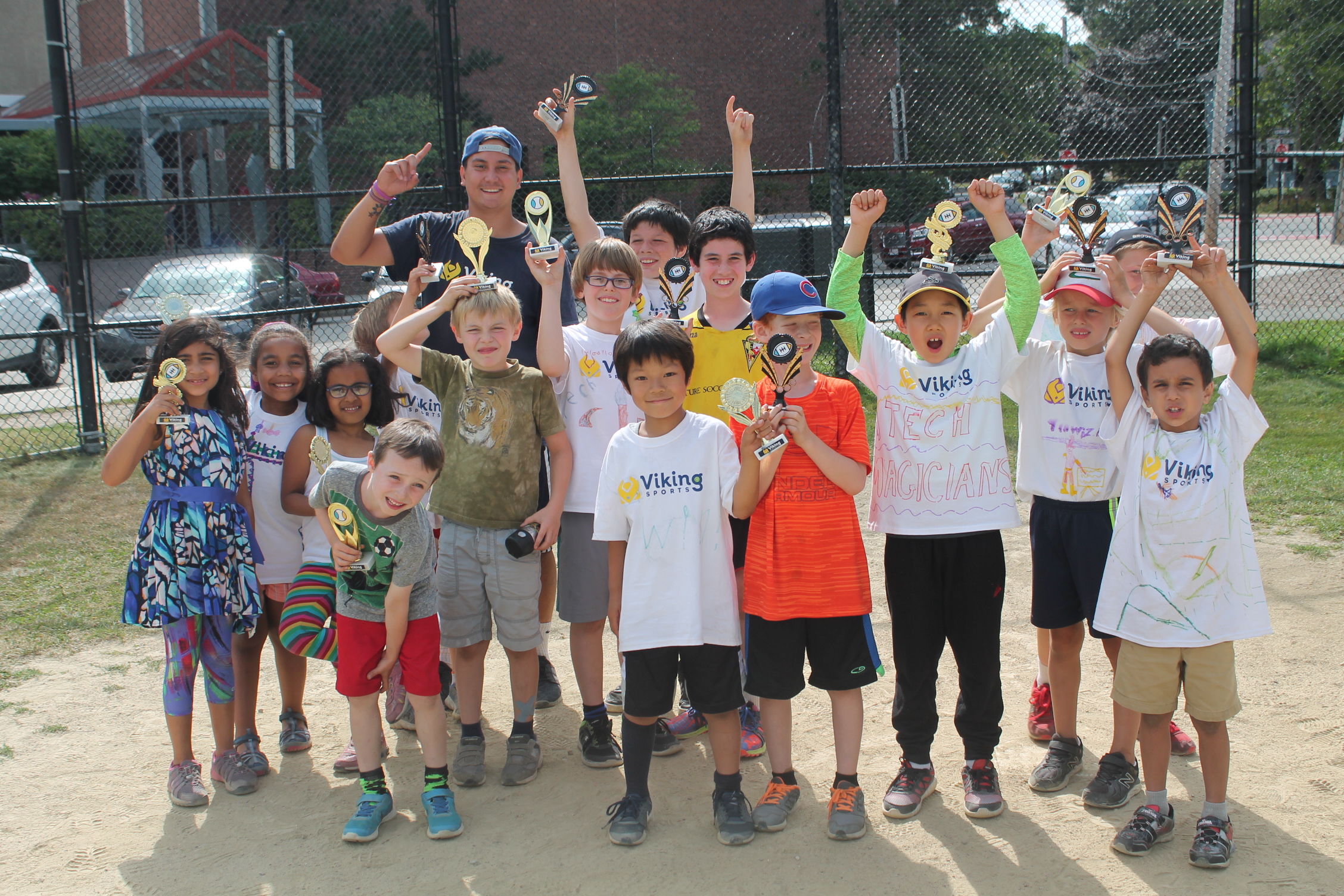 The following programs are available to all Newton residents:
SUMMER CAMPS
Multi-Sports Camp
Soccer Camp
Baseball Camp
Flag Football Camp
Basketball Camp
Soccer Academy
Viking Ninja Warrior Camp
Pre-K Half-Day Multi-Sports Camp (Age 4 Only)
Preschool Half-Day Multi-Sports Camp (Age 3 Only)
School Vacation Multi-Sports Camp (December Break, February Break, and April Break)
SPORTS CLINICS
Soccer Clinics
Baseball & T-Ball Clinics
Flag Football Clinics
Basketball Clinics
Floor Hockey Clinics
SNAG Golf Clinics
Multi-Sports Clinics
Advanced Level Clinics For All Sports
Viking Ninja Warrior Clinics
SPORTS LEAGUES
KinderKickers Soccer League (Ages 5 & 6) Powered by the New England Revolution
Winter Indoor Soccer League (Grades 1 & 2)
Winter Indoor Soccer League (Grades 3 & 4)
Winter Indoor Soccer League (Grades 5 & 6)
Adult Basketball League (Men's Basketball League & Women's Basketball League)
Adult Soccer (Co-ed Soccer & Women's Only Soccer Available)
LOCATIONS
Solomon Schechter Lower School (60 Stein Cir, Newton)- Our Newton based summer camps are held at the Solomon Schechter Lower School at Camp Gan. The school has a large grass field and indoor gymnasium which is used during inclement weather, extreme heat days, and also when we bring our assortment of bounce houses.
Brookline High School (66 Tappan St.) – Our Summer Sports Camps and School Vacation Camps are held at the Brookline High School. Viking is fortunate enough to have access to the entire Cypress Field and Tappan St. Gymnasium Sports Complex. Cypress Field is the large sports field in the center of the Brookline High School complex. The field space alone has two full-size baseball diamonds and a regulation size football field (or soccer pitch). We also have access to the many regulation size and miniature soccer goals on site. This space allows us to play many different sports and games and split into multiple groups. The field is located next to the Cypress St. Playground which also allows us access to the outdoor basketball court and water park. The Brookline High School is located about two blocks off of Rt. 9 and is just off of Cypress St. Not only is this location perfect for Brookline residents and the surrounding communities, but it is great for any parent who commutes into the city and needs an easy drop-off for their child's camp. There is plenty of free parking (two parking lots, plus either side of Tappan St., Greenough St. and the left side of Davis St.) and it is also on the MBTA Green Line (D-Line Brookline Hills Stop). On inclement weather days (rain or excessive heat), we have access to the entire Tappan Gymnasium Complex, located at the same location. The complex consists of two full-size gymnasiums, a top-floor pavilion (which is the size of three full size basketball courts in one enormous open room!) and many large multi-purpose rooms. We also use this indoor complex for our School Vacation Sports Camps.
The Soule Recreation Center & The Soule Gym is located at 652 Hammond St in Chestnut Hill. This is a beautiful location that is situated in a very peaceful, wooded part of Chestnut Hill. For outdoor programs, we use the field next to the gymnasium by the tennis courts. For indoor programs, we use the Soule Gym, the entrance faces away from Hammond St (towards the upper level soccer field). The Soule Recreation Center is located just off of route 9 near the brand new Star Market. There is extra parking for this location at 436 Heath St.
The Viking Activity Center – Viking's brand new home for all things sports at 143 Cypress St. It is just off Rt.9 and two doors down from the ACE Tickets. For leagues, this is the perfect location for exciting, high energy, small-sided sports. For clinics, it is an excellent spot for learning new skills and techniques. The location features a great viewing area for the parents and is conveniently located next to the Rifrullo Cafe if you need a quick cup of coffee or a snack!
Waldstein Park (aka Dean Rd Park, Waldstein Playground) – This beautiful and newly renovated park is located near the corner of Dean Rd. & Beacon St. The park is located on Dean Rd. opposite the Beaconsfield T-stop (MBTA Green Line, D-Line). It is also about a five minute walk from Cleveland Circle if you are heading inbound on Beacon St. This park's amenities include a baseball diamond, soccer goals, running track, basketball court, and water park. All amenities are brand new and parking is very convenient as there are multiple options for parking on Dean Rd., Clinton Path, and Strathmore Rd.
Winthrop Park (aka The Minot Rose Garden) – this park is located by the corner of St. Paul St. and Freeman St. It is three blocks down from the large Holiday Inn on the corner of St. Paul St. and Beacon St. towards Commonwealth Ave. The field we use is the large fenced field next to the playground and rose garden. It is an excellent location that is centrally located in Brookline.
In Newton, children from the following public schools, private schools, and pre-schools participate in Viking Sports Programs, Sports Clinics, Sports Camps, and Leagues:
Angier Elementary School
Auburndale Community Nursery
Bigelow Middle School
Bowen After School Program
Bowen Elementary School
Brimmer & May School
Burr Elementary School
Cabot Elementary School
CATS Academy Boston
Charles E Brown Middle School
Children's Coop Nursery School
Clearway School
Close To Home Children's Center
Countryside Children's Center
Countryside Elementary School
Echo Falls Pre-School
F A Day Middle School
Fessenden School
Franklin Elementary School
Gan Yeladim Day Care Center
Godine Learning Center-Ls Jcc
Golden Days Children's Center
Happy Child Day Care
Happy Child Pre-School & Dcc
Highlands After School Program
Hills And Falls Nursery School
Holway Child Study Center
Horace Mann Elementary School
Integrated Learning Academy-Newton
Jackson School
Kesher Newton Jewish A/S Pgrm
Lincoln-Eliot Elementary School
Mason-Rice Elementary School
Meeting House Child Care Center
Memorial Spaulding Elementary School
Mount Alvernia Academy
Mt Alvernia High School
Newton Country Day School
Newton Creative Start High School Center
Newton Early Childhood Center
Newton Montessori School
Newton North High School
Newton School For Children
Newton South High School
Newton Wellesley Childs Corner
Newtown Head Start Warren House
Oak Hill Middle School
Parkside Pre-School
Peirce Elementary School
Plowshares-Franklin After School
Plowshares-Lincoln Eliot As
Plowshares-Newton N Pre-School
Pre-School Experience
Presbyterian Ch Nursery School
Rae & Joseph Gann Beth El Ps
Second Church Nursery School
Solomon Schechter Day School
Solomon Schechter Day School Of Greater Boston
Sterling East-Boston Campus
Temple Beth Avodah Nursery School
Temple Emanuel Nursery School
Temple Shalom Nursery School
The Chestnut Hill School
Toddler's Loving Care Inc
Trinity Catholic High School
Underwood Elementary School
Upper Falls Nursery School
Victorian Montessori Day Care
Walnut Park Montessori
Ward Elementary School
Weekday Church Nursery School
West Newton Childrens Center
Williams Elementary School
Ymca Live Y'ers Child Care
Zervas Elementary School
Viking Sports private lessons are a great opportunity for your child to focus attention in a sport of their choosing.  Our coaches have extensive knowledge in many of the traditional sports, and through our private lessons, your child will build confidence, understand important aspects of gameplay, and learn the skills necessary to be the best of the best on the field, court, or pitch.