SUDBURY
Working with the Sudbury community since 1995, Viking is excited to offer seasonal programs in the greater Sudbury area.
Services Offered
Summer Camp
Vacation Camps
Clinics
Summer Camps
Our summer camps in Metrowest  are an unforgettable experience for your child. We offer multiple camps throughout the Sudbury area.
Clinics
Our clinics are instructional classes meet once a week and last for a 6-8 weeks. Our staff follow an age appropriate curriculum that keep kids engaged and entertained, while learning a new sport.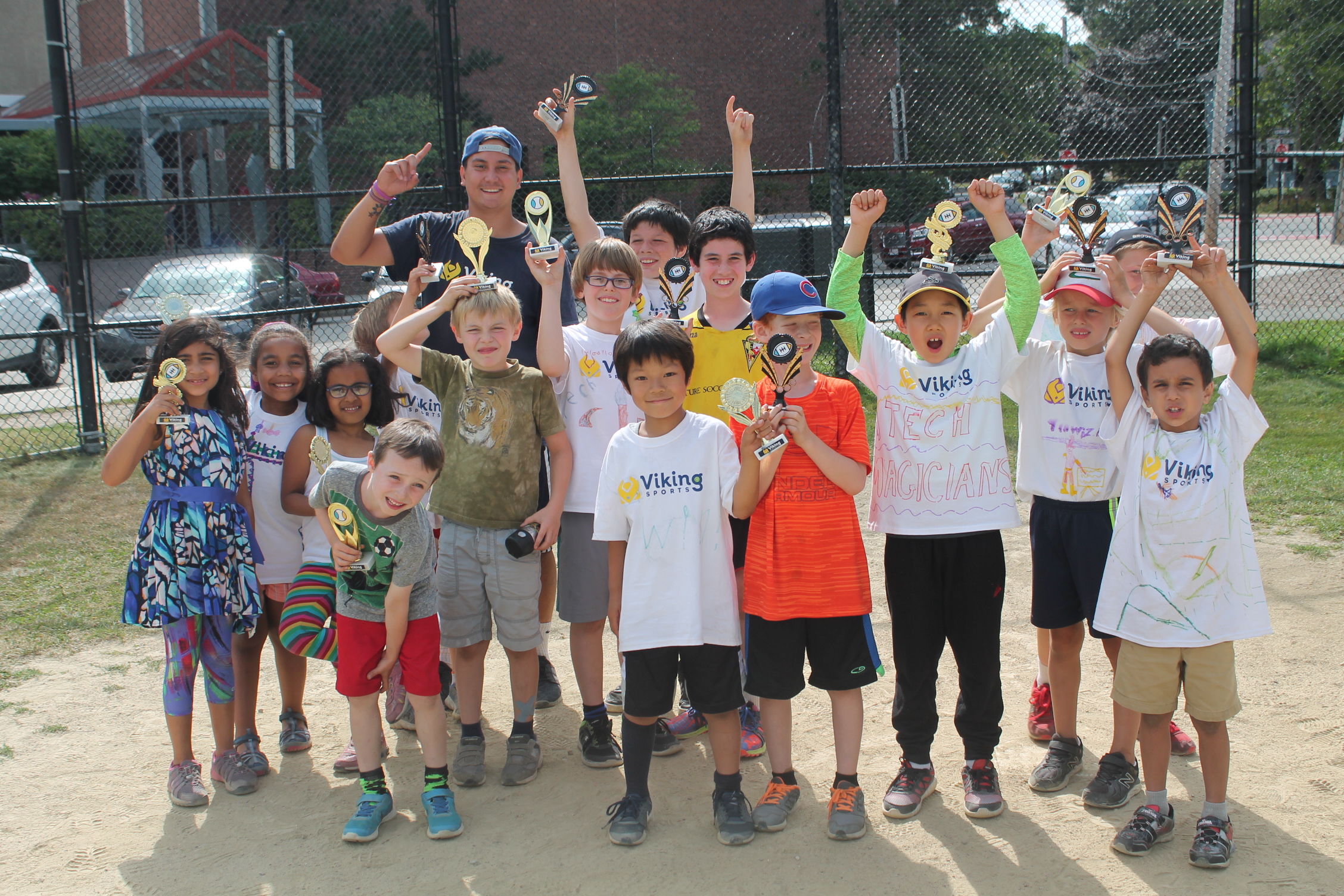 The following programs are available to all Sudbury residents:
SUMMER CAMPS
Viking Ninja Warrior
KinderKickers Soccer Camp
Baseball & T-Ball Camp
Flag Football Camp
Basketball Camp
Multi-Sports Camp
Boys Lacrosse Camp
Girls Lacrosse Camp
SNAG Golf Camp
Tennis Camp
Girls Field Hockey Camp
Beach Volleyball Camp
Dodgeball & Gaga Ball Camp
SPORTS CLINICS
Soccer Clinics
Baseball & T-Ball Clinics
Flag Football Clinics
Basketball Clinics
Dodgeball Clinics
Floor Hockey Clinics
SNAG Golf Clinics
Multi-Sports Clinics
Viking Ninja Warrior Clinics
SPORTS LEAGUES
Adult Basketball League in Brookline (Men's Basketball League & Women's Basketball League)
Adult Soccer in Brookline (Co-ed Soccer & Women's Only Soccer Available)
LOCATIONS
Fairbank Community Center (40 Fairbank Rd, Sudbury)
Haskell Field (15 Fairbank Road, Sudbury)
Featherland Park (491 Concord Road, Sudbury)
Feeley Park (220 Raymond Rd., Sudbury)
Noyes Elementary School (278 Old Sudbury Rd., Sudbury)
Curtis Middle School (22 Pratts Mill Rd., Sudbury)
Lincoln-Sudbury Regional High School – Stadium Field/Community Field (390 Lincoln Rd., Sudbury)
Bosse Training Center, Route 9 in Framingham
The FieldHouse
Suburban Athletic in Framingham
Our Sudbury programs service the following communities:
Framingham
Hudson
Maynard
Weston
Wayland
Lincoln
Marlborough
Southborough
West Concord
Concord
In Sudbury and the surrounding communities, children from the following public schools, private schools, and pre-schools participate in Viking Sports Programs, Sports Clinics, and Sports Camps:
Apple Valley Montessori School
Aruna's Place For Children
Barat Montessori School
Beginnings School
Beginnings School (Weston)
Beth El Pre-School
Birches School
Bright Horizons Day Care (Wayland)
Children Center At Woodland
Children's Center Of Weston
Children's Garden Dc-Cambridge
Claypit Hill School
Community Nursery School (Wayland)
Community School (Maynard)
Corner Day Care Toddler
Country Elementary School
Countryside Playschool
Drumlin Farm Community Pre-School
Ephraim Curtis Middle School
Field Elementary School
Fowler School (Maynard)
General John Nixon Elementary
Goddard School
Green Meadow School (Maynard)
Happy Hollow School
Israel Loring Elementary
JCC Early Learning Center
Josiah Hayne Elementary
Kids Corner At The Pines
Knowledge Beginnings (Maynard)
Leap School At Dakin Farm
Learning Zone Day Care Center
Lincoln Country Day School
Lincoln Nursery School
Lincoln School
Little Dove Early Child Care Center
Little Hands Academy
Little Lamb Nursery School
Loker School
Longfellow Children's Center
Magic Garden Inc. (Lincoln)
Meadowbrook School
My Montessori
Next Generation Children's Center
Next Generation Childrens Centers
North Ave Nursery School Inc
Peter Noyes Elementary
Red Barn Nursery School
Regis College Children's Center
Roxbury Weston Pre-School
Sudbury Children's Learning Center
Sudbury Cooperative Pre-School
Sudbury Extended Day
Sudbury Extended Day-Noyes
Sudbury Extended Dc Haynes
Sudbury Extended Dc-Nixon
Sunny Hill Pre-School
The Academy of Regis College
The Children's Way
The Goddard School
The Imago School
The LEAP School
The Meadowbrook School Of Weston
The Wayland Montessori School
Wayland Creative Pre-School
Wayland Middle School
Wayland Public B A Cc
Weston Middle School
Weston Wing Child Care Center
Whittemore House Nursery School
Woodland Elementary School
Woodsedge Child Care
Woodsedge Children's Center
Viking's Ultimate Challenge Fundraisers generates the most fun possible to raise money, while building community and an abundance of school spirit.